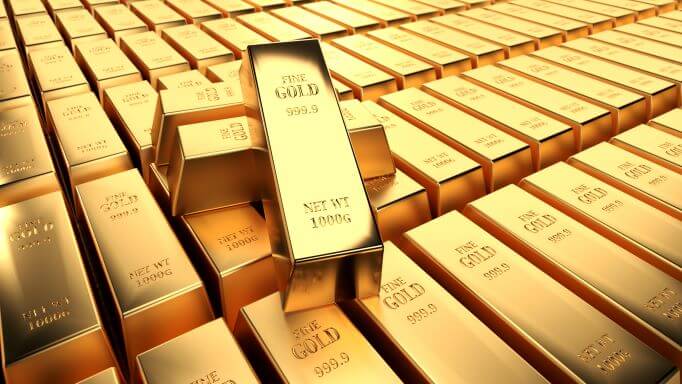 Gold Bar Scams and Other Common Scams
Fake gold bars, fake gold, fake gold chains, gas station gold, fake gold bullion; it is everywhere. No one wants to be fooled by believing they purchased genuine gold coins and bullion, only to find out they were scammed. Fake gold coins and bars can make a good day really bad.
Technology has helped fine-tune how fakes are made and how scammers are doing business. Scammers sell fakes that look so real that people can't tell the difference.
All that glitter is not gold.
Scammers don't just focus on senior citizens, nor do they necessarily do cold calls. Often scams are completed in the parking lot of a gas station or grocery store. The scammer has a physical gold product like a gold bar, and they assume you don't know how to tell the difference between a real gold bar and a fake one.
Knowing a few things may help you from being taken advantage.
Feel the Weight, but Not the Weight of Being Suckered
Gold is heavy. It is dense. Weigh up whatever gold bar you are considering buying, a gold coin that catches your eye, or a gold chain you hope to purchase. Use a digital scale and weigh the gold. A troy ounce is 31.1 grams. Does the gold piece weigh what it says it weighs?
If you drop a fake gold bar into water, it will probably float. Genuine gold will sink because it is dense and heavy.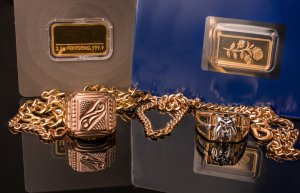 Check the Pricing. If it is too good to be true, it is probably not true.
You can look at the spot price of any precious metal by searching for "spot price of gold today" in your web search bar. Pay attention to the price of the gold or any other precious metal you consider buying. Ask yourself why a troy ounce of gold at $1720.00 today would be sold for half that amount. Honest dealers are most likely to sell gold for a price above the spot, not below it.
Scams will create a false sense of urgency by claimed limited supply. Or if you buy now, you will get a break. Metals dealers who are genuine can provide a government issued license showing they are registered by a government agency. The license is a protection.
Also be aware of claims of low risks and high returns. These claims from scammers should be warning signs.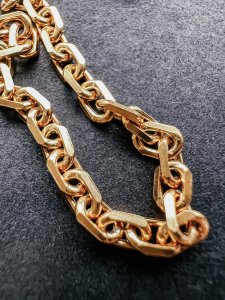 Check Gold Facts:
Gold Purity
Gold has different purity. All gold spot prices are based on gold being 99.9% pure.
24k gold is considered "pure" gold without traces of other metals. 24k gold is soft and bright yellow. It is mainly used in gold bars, bullion, and coins.
18k gold is 75% pure, 14k is 58.3% pure, and 10k is 41.7 pure.
The weight of gold is measured in troy ounces; however, its purity is measured in 'carats.' Since the spot price of gold is based on gold being 99.9% pure, the more other metals are in the gold, the less refined, the less it's worth.
This is why it is important to understand how to spot or purchase fake gold bars. You don't want to spend money on gold that isn't real.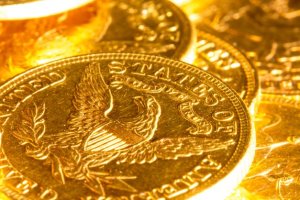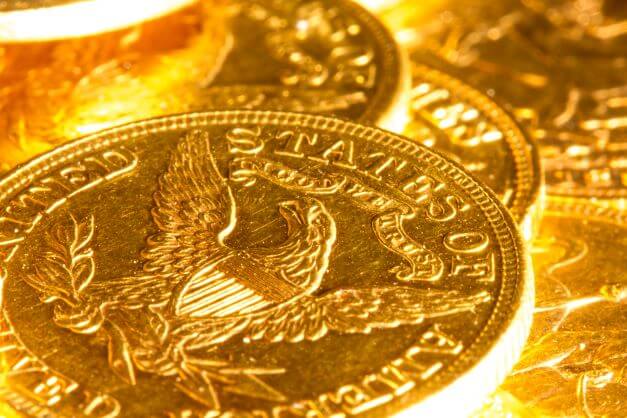 Market Price – Spot Prices
Spot prices change daily and are based on the current market value of pure gold. Depending on what money you have to spend on gold, make sure you are buying real gold, not just a fake gold material.
The gold market is constantly shifting. Checking the current price, you will know, the real cost of buying gold. Scammers will ask for a ridiculously low price.
Some scammers will set up schemes to drain savings and retirement accounts. These schemes are typically completed through targeting the elderly, and may be done through cold calls.
Gold bars aren't the only gold used in scams. Silver, and other precious metals are used. Understanding where gold bars come from will help you with decisions to buy precious metals from the person selling it or not.
Mints
Perth Mint in Australia
It is a world-famous gold refinery. The world-famous gold refinery hasn't encountered fraudulent branded Perth Mint kilobars. Still, with fake gold bars circulating around as a way to launder conflict gold, the mint will continue to test and examine the gold to make sure it is genuine.
China
China is the center of the biggest gold counterfeiting scandals in recent history. According to the Economic Times, China may account for 4 percent of China's official gold reserves and may be fake.
Gold bars are fraudulently stamped with the logos of major refineries. The fakes are often difficult to spot, and because of this, fake gold bars are ideal fund runners. There are several million bars stamped with refinery logos that weren't actually produced by those facilities, reported JPMorgan Chase & Co. The fake bars are highly professionally done.
There are risks when buying gold coins, gold bars, and silver. So do your research.
Gold and silver coins, dollars, bars, and jewelry can be purchased online, on eBay, from gold dealers, metal dealers, and at pawn shops. Do your research to ensure you dealing with a reputable shop.
With Google Reviews, the ability to search businesses on the Better Business Bureau or other regulating sites, and social media, it is fairly easy and common to check the reputation of the dealer you decide to purchase your gold bars from. Take the time to research local pawn shops, read the reviews, and ask around.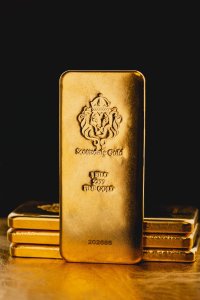 Testing can help you feel confident when you purchase gold bars.
You can test a piece of gold to determine if it is a fake gold bar by a magnet test. Real gold is not magnetic. The magnet won't stick to the gold bars if it does walk away.
Did you know you can use some liquid foundation makeup and rub the gold against it on your skin? If it leaves a black streak, it is more than likely gold. Find a friend with anemia or low iron. The same will happen, because the gold reacts to the blood's hemoglobin.
The makeup foundation and low iron tests are a bit extreme. Why not find a pawn shop with testing equipment?
Some gold bars have a layer of gold, and then they are filled with tungsten or another alloy, making them feel heavy and real.
The fake gold bars are blocks of cheaper alloys or metal that are then plated with gold. There are also counterfeit gold bars with fake markings, but real and have very high purity gold. These bars are used for money laundering.
Most pawn shops will get fake gold bars, bars made of cheaper metals and plated gold. If a pawn shop thinks the bars are iffy, they won't take it. This is true for the pawn industry, because they can't afford to make mistakes.
To help decrease the risk of purchasing a fake gold bar, security features in genuine gold bars help investors differentiate between real gold bars and fake ones. Some security efforts may include registered serial numbers stamped on the bar, certificates of authenticity with a matching serial number, and sealed packaging to prevent tampering.
These forums may increase the risk that the gold bars, bullion, and rounds you want to buy for good money may be fraudulent. Make sure the price will match what you are buying. There may be a concern about cheap gold and a huge discount.


Smyrna Pawn
Finding a pawn shop like Smyrna Pawn, located in Cobb County, GA, is a place where you can purchase gold and silver with confidence. They understand that precious metals can be an investment strategy. When they buy and pawn gold and silver, gold coins, and bullion, they test what comes into their store, so everyone knows exactly what the metal is made of.
Smyrna Pawn is one of Georgia's oldest and most trusted family owned Cobb pawn shop. They have been happily serving the public since 1977. They are located about 10 miles northwest of Atlanta, Georgia in Smyrna, Ga (Cobb County). At Smyrna Pawn Shop, you aren't just another customer. Their success is based on their approach to customer service. They treat customers the way they like to be treated; like family, not another number.
They buy, sell, and pawn luxury items, gold, silver, diamonds, luxury handbags, and designer watches. If you have items to liquidate, they will work with you to make you a reasonable, honest, and fair offer.